The problem
One of the leading global causes of death is cancer and the number of patients with cancer is still increasing. This is devastating for patients and extremely troublesome for society. Despite new breakthroughs in cancer research with molecularly targeted therapies (ie therapy that attacks a specific oncogene / gene that causes the cancer) or immunotherapy, it is still chemotherapy, radiation and surgery that form the basis of how we treat cancer. Chemotherapy is effective, but also has severe side effects which often limit its use. The new therapies also have their limitations in lack of effect, development of resistance or therapy-related toxicity.

The solution
Oxcia aims to introduce oxidative stress and DNA damage to cancer cells, through targeted treatments and without harming healthy cells.
The development of MTH1 inhibitors and OXC-101 is based on many years research at the Helleday lab at Karolinska Institute and in collaboration with academic groups worldwide such as Mayo clinic, University of Manchester, University of Sheffield, CNIO, NIH, Sanger institute, Uppsala University, and MIT.
Overwhelming evidence show OXC-101 (Karonudib) specifically introduces oxidative DNA damage to cancer cells, causing these to arrest and die, while sparing healthy cells
Mode of Action
Background to Mode of Action
Oxygen is vital for life. In the body's cells, oxygen can easily form ROS (i.e. Reactive Oxygen Species). This is a normal process in living cells, which is usually highly controlled.

If an imbalance in these control systems occurs, we call it oxidative stress. Then ROS levels can accumulate, and ROS will react with cellular components like DNA and cell membranes and cause damage. This damage can lead to the onset of various diseases like cancer and inflammation.
DNA damage is controlled and repaired in the body by DNA Damage Response (DDR) proteins.
Cancer cells suffers from oxidative stress and elevated levels of ROS and DNA damage.
The DNA damage are usually controlled by production of increased numbers of DDR repair proteins so that oxidative DNA damage is kept below a lethal threshold and the cancer cell is able to survive and multiply.
OXC-101 Mode of Action
OXC-101 combats cancer by taking advantage of the high oxidative stress and DNA damage that exist specifically in cancer cells.
OXC-101 has a unique dual mechanism of action. In short it introduces additional oxidative stress and ensures the cancer cell cannot repair the oxidized DNA damage.
OXC-101 stops the division of the cancer cell by disturbing tubulin polymerization, further increases the oxidative stress and inhibits the MTH1 enzyme, a DNA repair protein that cleanses oxygen-damaged DNA building blocks in the cancer cell.
Treatment with OXC-101 therefore greatly increases the amount of ROS and DNA damage inside cancer cells. The resulting DNA damage becomes so high that the cancer cell is beyond repair and dies.
By contrast healthy cells are much less affected by OXC-101 treatment since their oxidative balance is much more regulated than a cancer cells (eg low oxidative stress and DNA damage)
Mechanism of Action(1, 2, 3)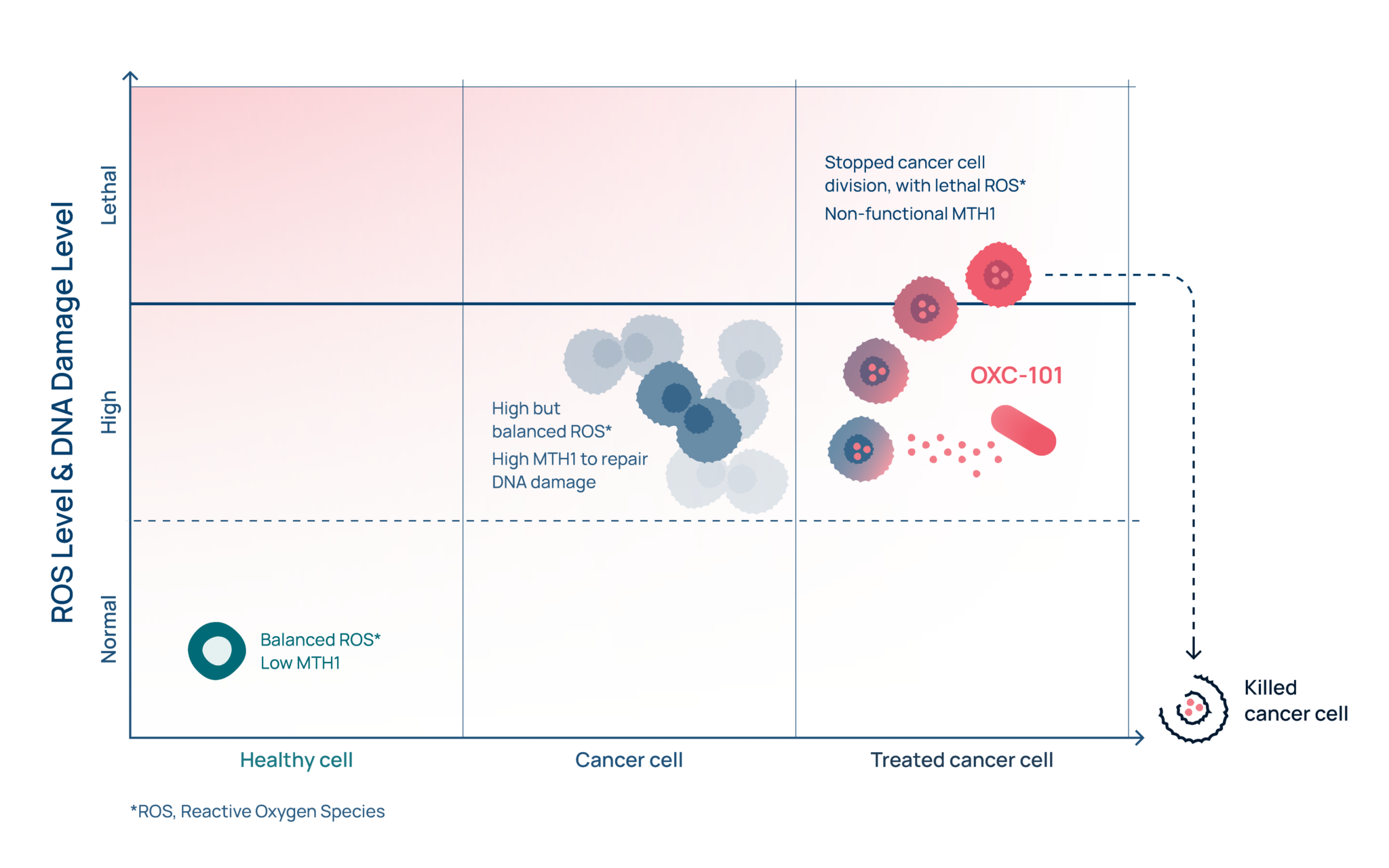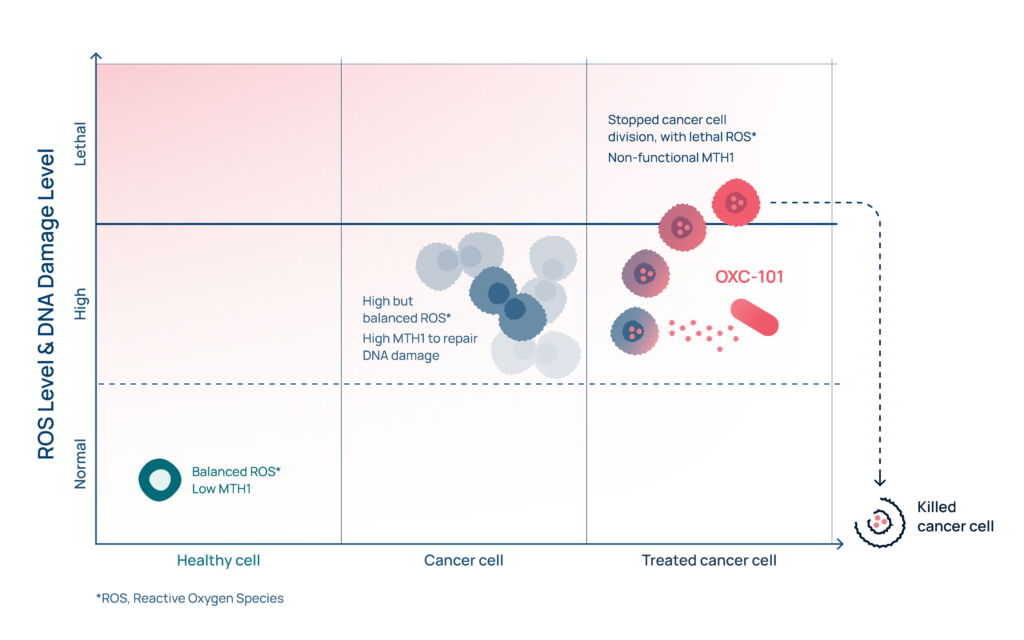 Notes:
(1) Gad et al Nature 2014 (2) Warpman Berglund et al Annals Oncology 2016 (3) Gad et al BioRxive 2019
Key supporting data
OXC-101 (Karonudib, TH1579) was developed at Karolinska Institutet in Prof. Thomas Helleday's laboratory. In collaboration with KI and other national and international academic groups, extensive preclinical research has been performed. OXC-101 blocks tumour growth in many different human cancer models of both solid and hematological cancers. It shows similar or better efficacy when compared to many standard treatments. OXC-101 can also be combined with standard of care treatments showing additive/synergistic effects and is effective in chemotherapy resistant tumours. It is well tolerated in animals (mice, rat and dog) with no acute toxicity.
OXC-101 alters immune checkpoint markers on cancer cells and recruits cytotoxic T cells to the tumour. Thus, OXC-101 has potential to improve immune-oncology therapy by making cold tumours hot.
Ongoing phase I trials also show good tolerability.There are preliminary signs of OXC-101 (Karonudib) activity resulting in reduced target tumour size, elevation of biomarkers and infiltration of cytotoxic T cells.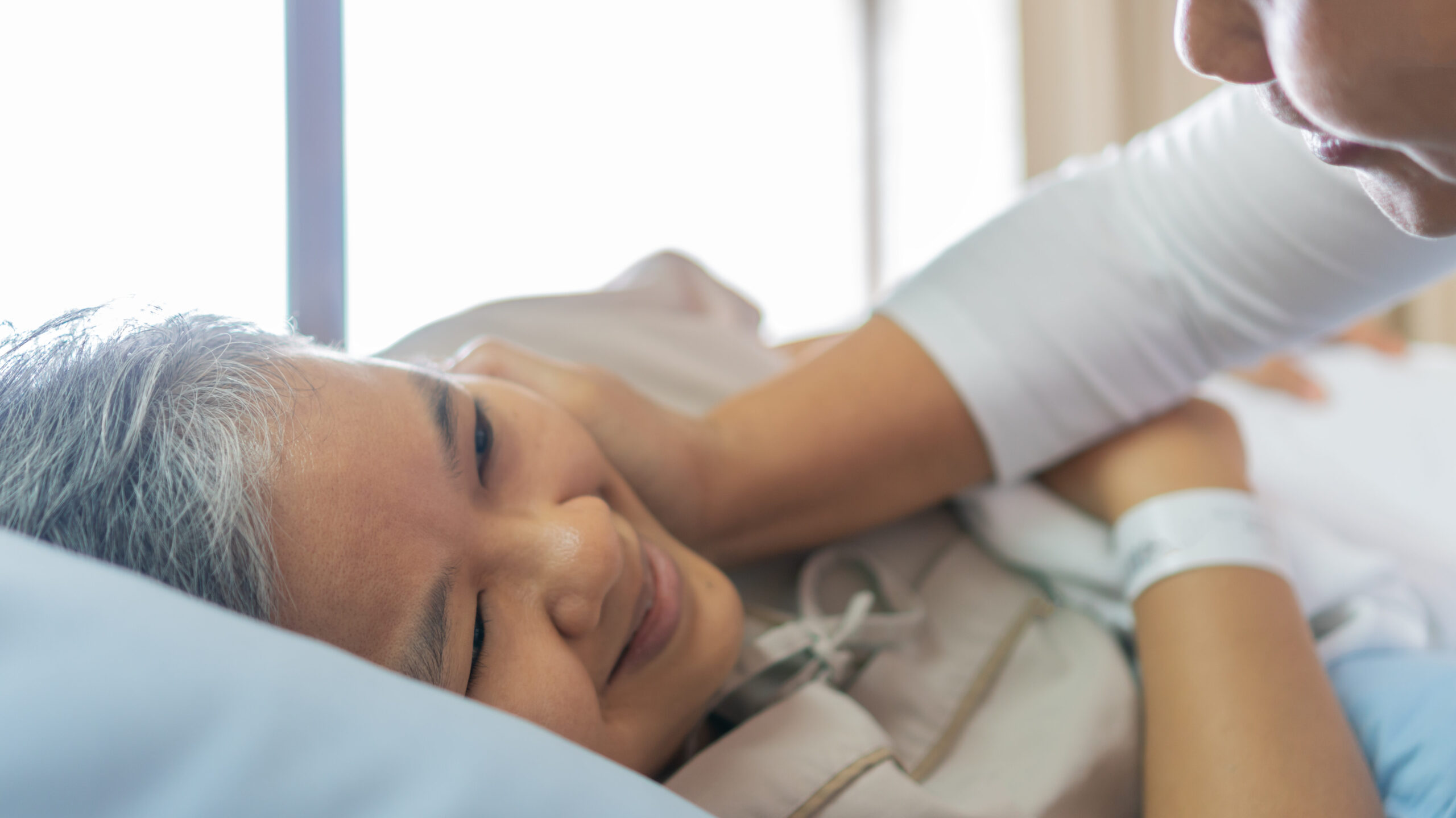 Benefits
OXC-101 (Karonudib) has the potential to increase survival and has fewer adverse effects as compared to chemotherapy.
In various cancer disease models, OXC-101 (Karonudib) has been shown to have potential for a broad anti-cancer effect, can be given both alone and in combination with other approved anticancer treatment and can function in chemotherapy-resistant tumours.
OXC-101 has potential to increase the response of immuno-oncology treatment (making cold tumours hot).
Benefit summary:
Works on several cancer indications ✓
Works on heterogeneous cancers ✓
Healthy cells are not affected ✓
Less general cytotoxic side effects ✓
Potential to overcome existing chemotherapy resistance mechanisms ✓
Mono-, combination-therapy ✓
Oral treatment ✓
Intellectual Property
The patent protection for OXC-101 (Karonudib) is strong with large geographical coverage. The major patent covers pyrimidine-2,4-diamine derivatives for treatment of cancer. The patent portfolio also includes patents for other indications and patents for back-up compounds.
Status and plan
Oxcia has currently two ongoing phase I trials underway at Karolinska and Sahlgrenska University Hospitals.

Oxcia is also investigating other indications where OXC-101 (Karonudib) has therapeutic potential.
MASTIFF
MAATEO
Clinical phase
Phase 1
Phase 1
Title
MTH1, A Phase 1, Study on Tumours Inhibition, First in Human, First in Class
A phase 1 study in patients with hematological malignancies to evaluate safety, tolerability and efficacy of Karonudib
Status
Recruiting
Recruiting
Indication
Solid Tumour
Leukemia
Locations
Karolinska University Hospital, Solna, Sweden & Sahlgrenska University Hospital, Göteborg, Sweden
Karolinska University Hospital, Huddinge, Sweden
Primary objectives
To determine the safety and tolerability of OXC-101 (Karonudib, TH1579) in escalating doses for the treatment of patients with advanced solid malignant tumours
To determine the safety and tolerability of Karonudid) in escalating doses for the treatment of patients with relapsed refractory AML, ALL, DLBCL, Burkitt's lymphoma, MM, MDS
Secondary objectives
– To define DLT and MTD
– To determine (i) a recommended phase Il dose (RP2D) and schedule, (ii) the pharmacokinetics, (iii) preliminary signs of clinical efficacy of OXC-101 (Karonudib)
– To define DLT and MTD
– To determine (i) a recommended phase Il dose (RP2D) and schedule, (ii) the pharmacokinetics, (iii) preliminary signs of clinical efficacy of OXC-101 (Karonudib)
Study design
Open Label
Open Label
Recommended phase 2 dose
2022
2022
Publications